welcome to Femilia™
Femilia™ helps women to learn more about their bodies.
By recording the dates of your periods, Femilia™ can help you to remember when your next period will occur.
Femilia™ can also be used to help predict when you will ovulate based on the dates of your period.
Best of all, Femilia™ is FREE!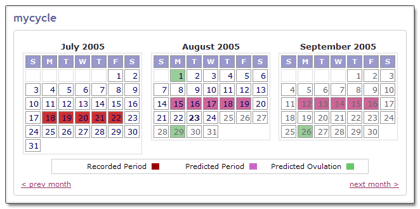 The information on this Web site is provided for informational and educational purposes only. It is not intended to be a substitute for informed medical advice or care. You should not use this information to diagnose or treat any health problems or illnesses without consulting your doctor. Please consult a doctor with any questions or concerns you might have regarding your health. Femilia™ is not to be used as a contraception tool or for pregnancy avoidance.